Cannes på Cote d'Azur er verdenskendt for sin årlige filmfestival, der hvert år i maj tiltrækker de største stjerner fra filmverdenen. På festivalen uddeles De Gyldne Palmer til instruktøren for årets bedste film, mens der også er priser til årets bedste skuespillere m.m.
Med flotte strande, eksklusive shoppinggader, gode restauranter og en interessant gammel bydel er Cannes dog altid spændende at besøge, også selvom der ikke er filmfestival. Det er først og fremmest på den to kilometer lange Boulevard de la Croisette, at de dyre designerbutikker og gourmetrestauranterne ligger. Det er også her det berømte Hotel Carlton ligger, der har huset flere berømtheder end noget andet hotel i Europa.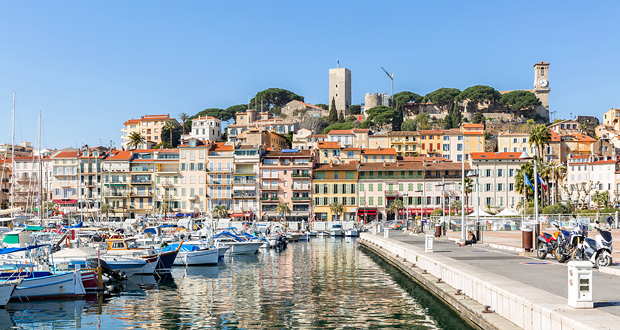 Rigdommen ses også i lystbådehavnen, hvor de milliondyre sejlbåde og lystyachter ligger side om side. De største ligger for anker længere ude.
Der er helt afgjort mange fashionable hoteller i Cannes, men der er også lidt mere almindelige hoteller. Et af dem er det hyggelige Chanteclair Hotel, som får mange gode anmeldelser af sine gæster.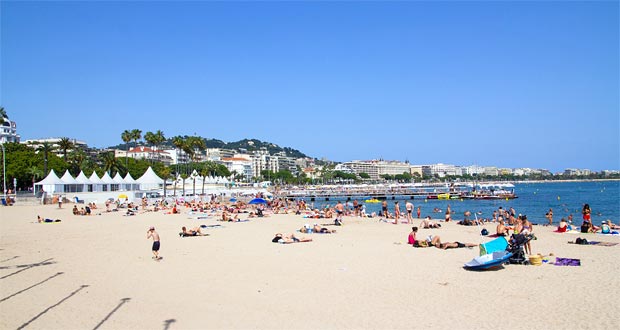 Strandene i Cannes
Cannes har to flotte strande. Hovedstranden er Plage de la Croisette, der ligger meget centralt placeret og er godt beskyttet af lystbådehavne på begge sider. Langs stranden ligger utallige strandrestauranter og bag stranden er der en flot strandpromenade.
Lidt vest for centrum ligger den langstrakte strand Plage du Midi. Her er der lidt længere mellem strandrestauranterne, men også her er der dejligt lyst sand og børnevenligt vand.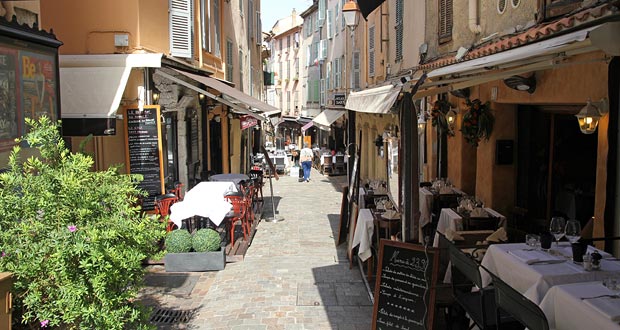 Restauranter og natteliv
I den gamle bydel ligger mange hyggelige restauranter med et rimeligt kvalitets- og prisniveau. Flere af de dyre restauranter ligger på Boulevard de la Croisette, det gælder også La Palme d'Or, der har to af de eftertragtede Michelin stjerner. Brugerne på Tripadvisor er meget begejstrede for Le Pompon og Lucky You, mens den italienske Gusti Italiani vurderes til at være et fund til prisen.
Med alle de rige og berømte personer som besøger Cannes, er der naturligvis et farverigt (og dyrt) natteliv. Det største sted er Gotha Club, hvor der er plads til 2.500 gæster. Andre populære natklubber er Le For You og Bâoli.
Seværdigheder og aktiviteter
De færreste besøger Cannes uden at smutte forbi Palais des Festivals, og tage et billede på den berømte trappe. Herfra kan man gå videre ad Boulevard de la Croisette, og opleve de mange eksklusive butikker, gallerier og hoteller.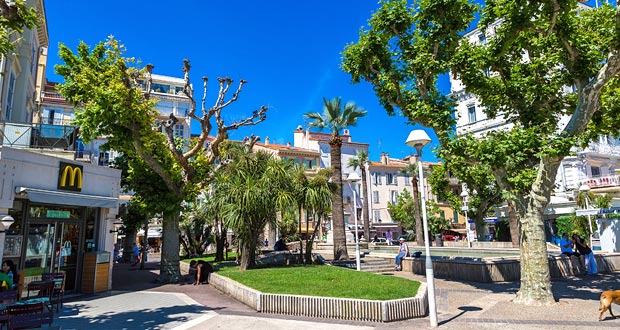 Le Suquet, den gamle bydel i Cannes, er bestemt også et besøg værd. På de snoede og stejle gader ligger flere restauranter og i markedshallen er der marked hver dag. De som vil opleve mest muligt på kort tid kan springe på turisttoget Le Petit Train, der har tre ruter i Cannes.
Den danske kong Christian 10 er i øvrigt æresborger i Cannes, og hans statue kan stadig ses på et lille torv tæt på vandet.
Cannes kort