Den smukke ferieby Théoule-sur-Mer ligger vest for Cannes, tæt på den noget større rivieraby Mandelieu.
Beliggenheden ved de røde Estérel bjerge, og den smukke natur, har givet Théoule-sur-Mer vokseværk, men det er dog fortsat en lille badeby med en afslappet atmosfære. Der ligger enkelte butikker i byen, herunder et lille supermarked, et bageri og en blomsterbutik.
Der er en lille håndfuld hoteller i Théoule-sur-Mer, og dertil kommer udlejning af et større antal private ferieboliger, flere af høj kvalitet. Lejlighedshotellet L'Horizon Bleu er flot beliggende med en fantastisk udsigt over havet. Med to swimmingpools, børnepool og andre aktiviteter er det et godt hotel til familier og par.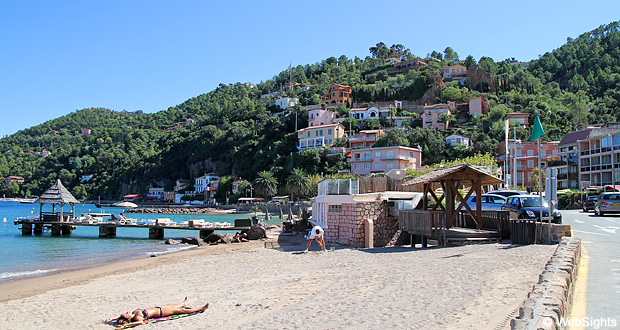 Strandene i Théoule-sur-Mer
Der er en række strande ved Théoule-sur-Mer, herunder flere strande lige foran byen. Det er dejlige sandstrande med meget klart vand.
Ved strandene ligger der strandrestauranter og caféer, hvoraf nogle udlejer solsenge og parasoller.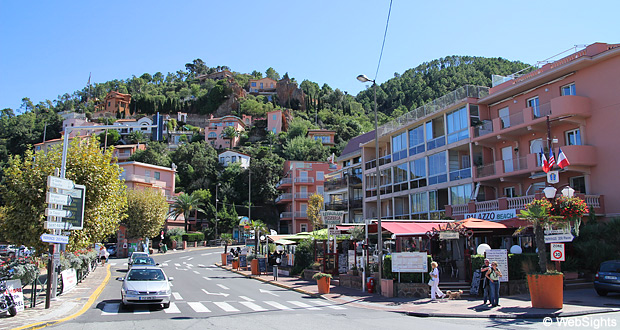 Restauranter og natteliv
Der er omkring femten restauranter og caféer i Théoule sur Mer. Mange af dem får gode anmeldelser af gæsterne, herunder Le Coup D'Fourchette og den lidt dyrere Chez Philippe. Sidstnævnte har en fantastisk udsigt over stranden, havnen og havet.
Nattelivet er roligt, helt som man forventer det af en hyggelig lille by.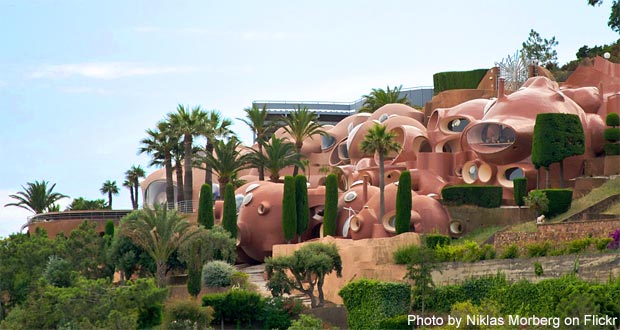 Seværdigheder og aktiviteter
Der afholdes fem-seks lokale festivaller i løbet af året i Théoule sur Mer. Blandt dem 'Théoule Arts and Flowers' i april, 'Théoule Expo' (lokale kunstnere) i august og 'Théoule Arts and Wine' i oktober.
En sjov ting ved Théoule sur Mer er Palais Bulles, som bedst kan oversættes til boble paladset. Det er et 1200 m2 stort hus, der er bygget som sammenhængende bobler/kugler. Der er designet af den ungarske arkitekt Antti Lovag, og blev bygget i perioden 1975-1989 til en fransk rigmand. Senere blev det købt af den franske designer Pierre Cardin. Ifølge arkitekten er det inspireret af fortidens huleboere, men mange synes mest det ligner boligerne fra tegneserien Barbapapa.
Théoule-sur-Mer kort
Théoule sur Mer er en lille by med under 2.000 indbyggere. Byens centrum ligger ved busstoppestedet sydvest for havnen. Her ligger byens turistinformation også.