Saint-Tropez ligger i den sydvestligste del af den Franske Riviera. Køretiden fra lufthavnen i Nice er i bedste fald lidt under to timer. Det er også muligt at tage turen i helikopter på ca. 15-20 minutter og det er den helt rigtige transportform til de riges legeplads, Saint-Tropez.
I havnen ligger de mest luksuriøse lystyachts lige så tæt, som alle de kendte modehuse gør det i den gamle bydel. Hotellerne i Saint-Tropez er naturligvis generelt også af høj standard.
De som kommer og besøger byen, går ofte en tur i den flotte gamle bydel, besøger det imponerende marked og nyder livet på én af de mange caféer ved havnen.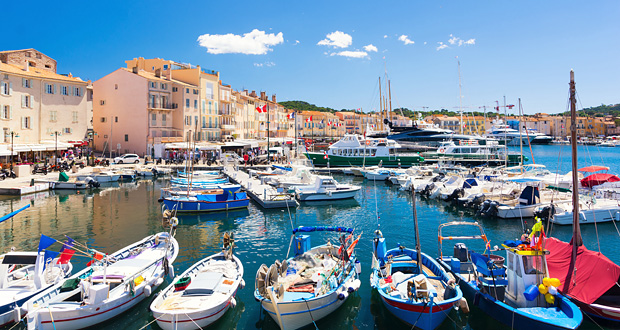 Strande ved Saint-Tropez
Der ligger en lille sandstrand i udkanten af Saint-Tropez, men stort set alle tager til strandene nogle kilometer sydøst for Saint-Tropez.
Her er der både private og offentlige sandstrande. Der er masser af strandbarer og restauranter, ligesom det er muligt at prøve kræfter med en lang række vandsportsaktiviteter.
Den mest berømte strand er Plage de Pampelonne, se billedet nedenfor.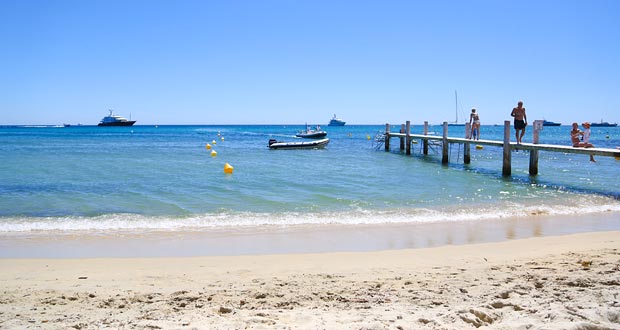 Restauranter og natteliv
Byens størrelse taget i betragtning, så ligger der mange gode restauranter i Saint-Tropez. Den bedste af dem alle er restauranten på hotellet La Pinède, der modtog sin tredje Michelin-stjerne i 2013.
Der er dog mange andre gode, og mindre eksklusive restauranter og caféer. To af dem er Le Sporting og Brasserie des Arts. På sidstnævnte bliver der mere og mere livligt i løbet af aftenen.
Med det hyppige besøg fra det internationale jetset er der naturligvis mange gode barer og natklubber i Saint-Tropez. De ligger dels i byen og dels ude ved strandene mod sydøst. Baren White 1921 er ejet af ingen ringere end Louis Vuitton, mens Les Caves du Roy er en af Frankrigs mest berømte natklubber. Her mødes de kendte og berømte.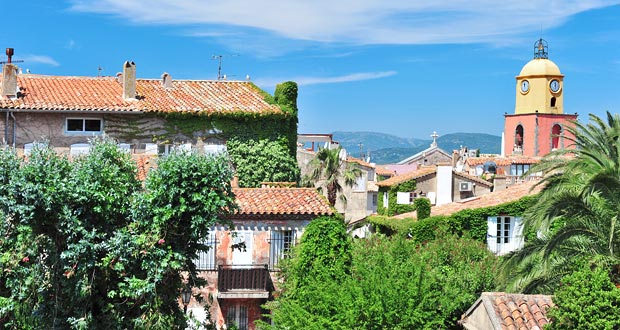 Seværdigheder og aktiviteter
For såkaldte almindelige mennesker er Saint-Tropez nærmest en seværdighed i sig selv, og de fleste kommer da også bare for at opleve byen. Husk en tur på markedet og i den gamle bydels snævre stræder.
Fra fortet 'Citadelle de Saint-Tropez', der ligger lidt øst for byen, er der en fantastisk udsigt ud over byen. Det sekskantede fort blev bygget omkring år 1600, og huser i dag bl.a. et maritimt museum.
Saint-Tropez kort